My home away from home in Kygyzstan
Bishkek, Kyrgyzstan
ACCELS Kyrgyzstan Head Office was located here.
The American Councils for International Education hired me right out of Kazakhstan and offered me a position as Program Recruiter after I returned to the US in July, 1999. I was assigned in Bishkek but needed to attend training in Moscow, Russia. When I arrived to Bishkek, I was picked up by my Kyrgyz host family's son. I would stay with his parents for my entire time in Bishkek.
Bishkek was not what I had expected. It was just as beautiful as Almaty. I lived in Yug-2 which was had a good view of the mountains. I remember walking to work and then taking a taxi home (Google maps says it was about a 55 minute walk but I remember doing it in about 40 minutes with all the shortcuts). I enjoyed Bishkek.
Of course there was work to do. I spent roughly 1/2 of my time in Bishkek. The rest on the road. My Kyrgyz assistant spent the same amount of time on the road as me. It would take me nearly a decade and a half to finally appreciate what she did. Our work was difficult.
Below are some of the photos I took while I was in Bishkek. Sadly, I cannot find the photos of me and my Kyrgyz host family.
Yug Dva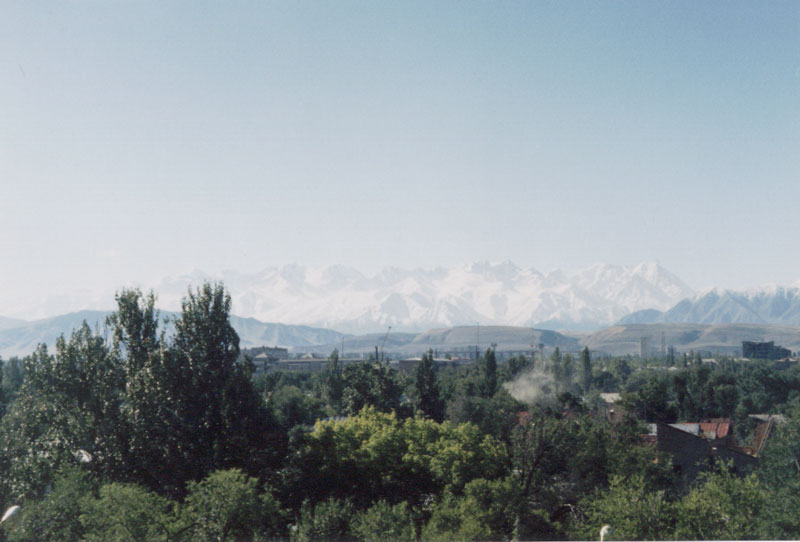 View from Yug Dva (2) from the apartment I stayed at. The mountains are very beautiful.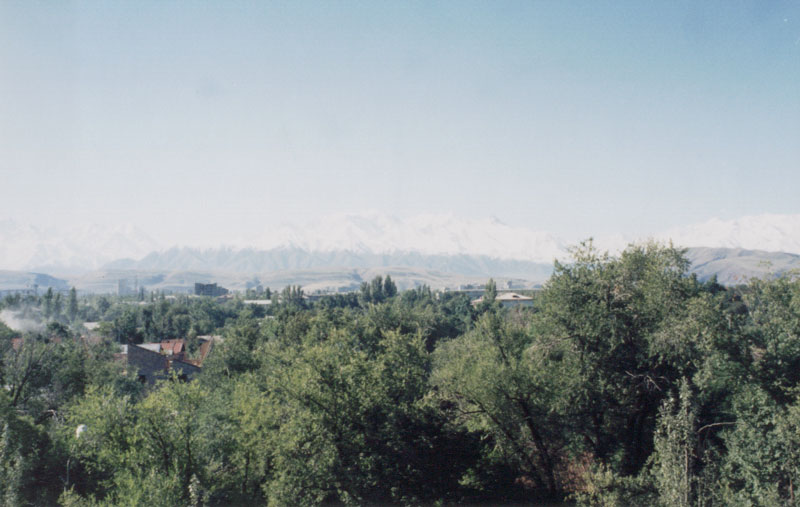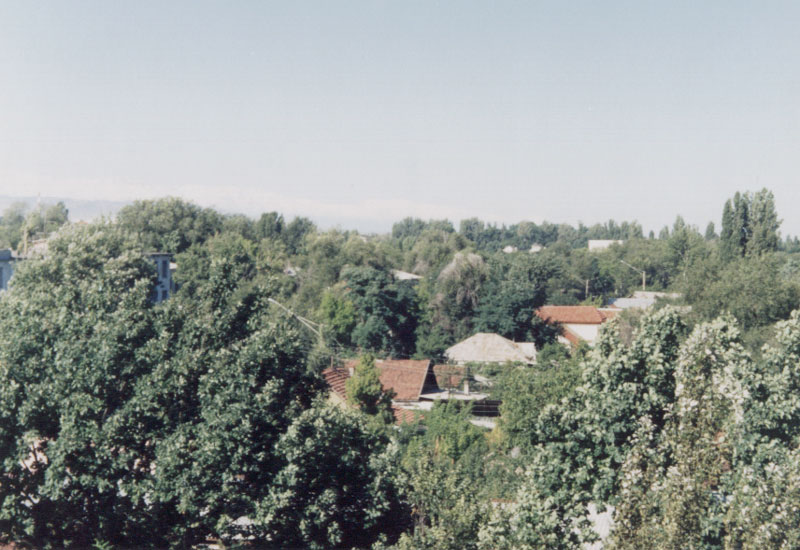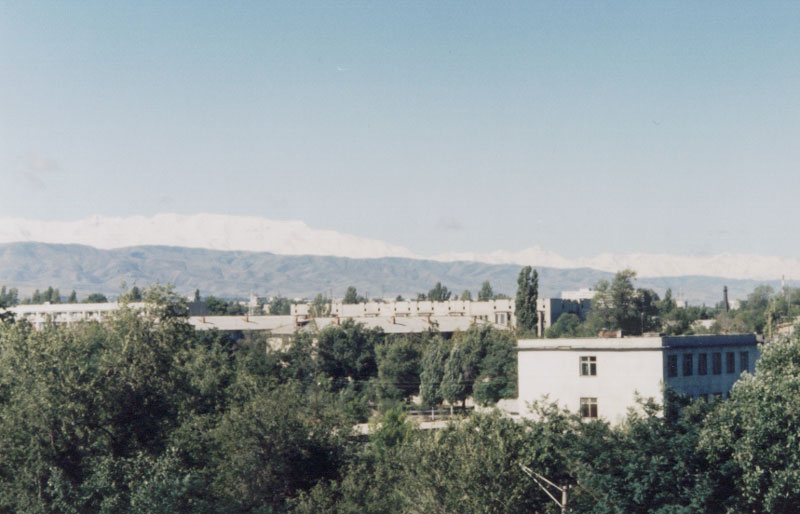 Osh Bazaar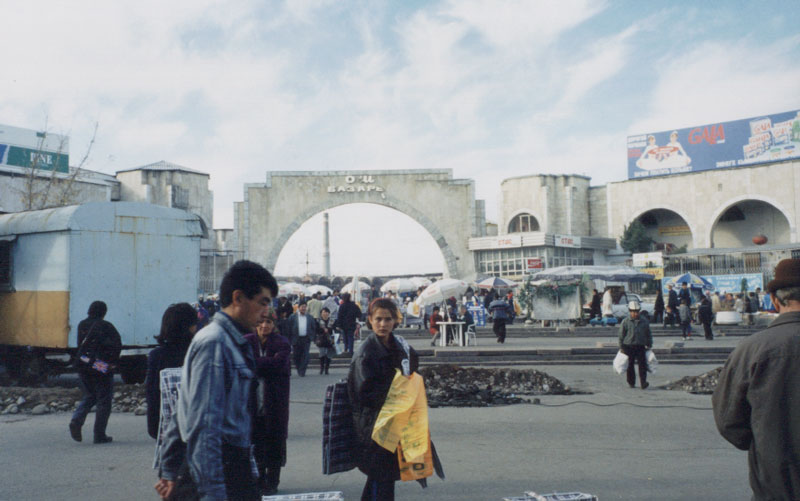 My host brother brought me to the Osh Bazaar, the main marketplace in Bishkek. You can buy anything here including meats, nuts, fruits, vegetables, etc. I remember meeting an American who spoke near fluent Kyrgyz. I had to ask him if he was Kyrgyz or not. He was funny (Need to find his photo).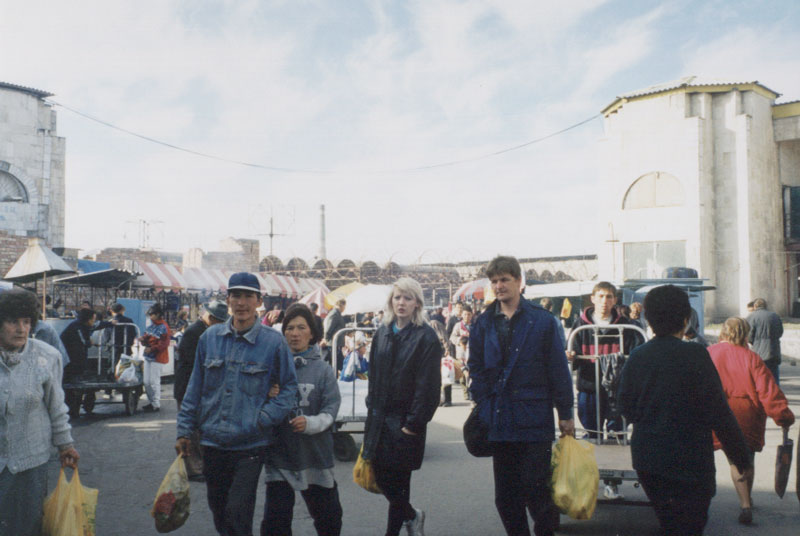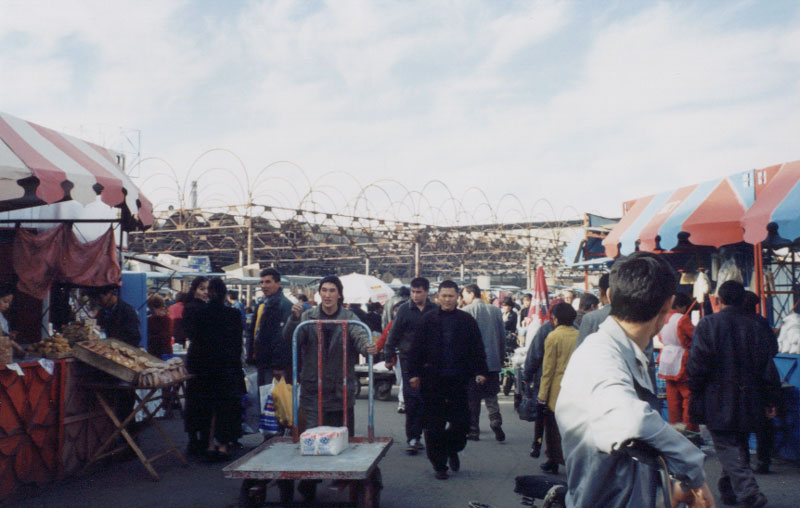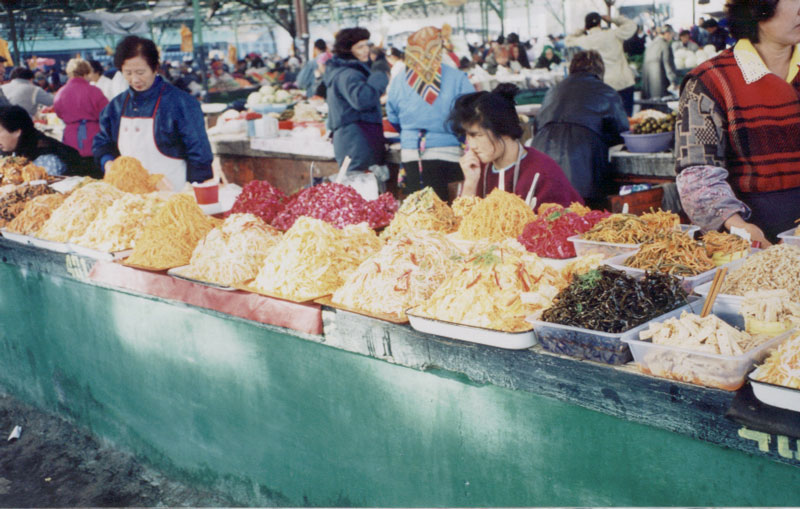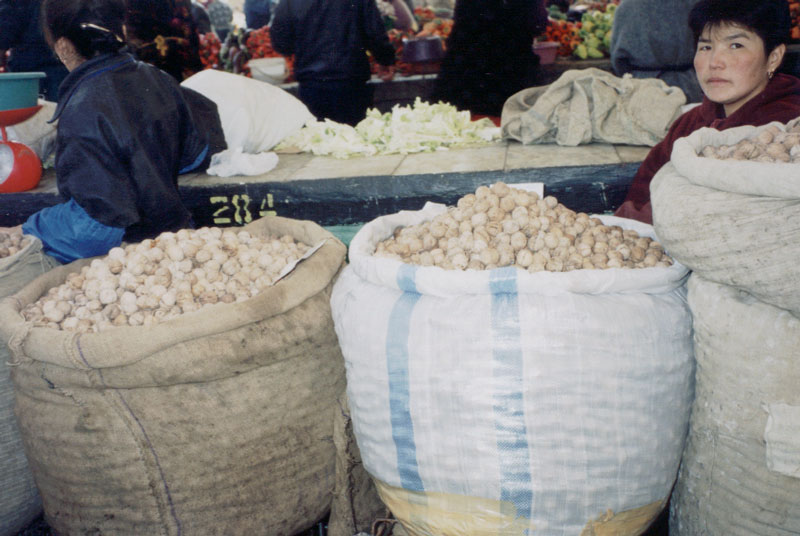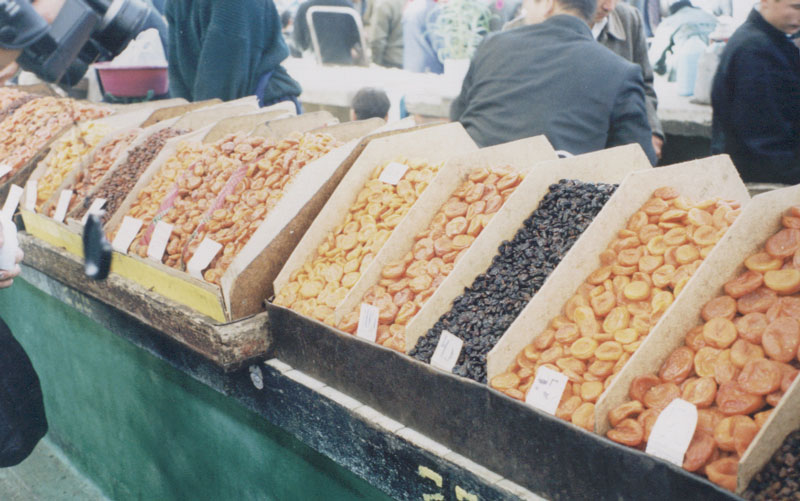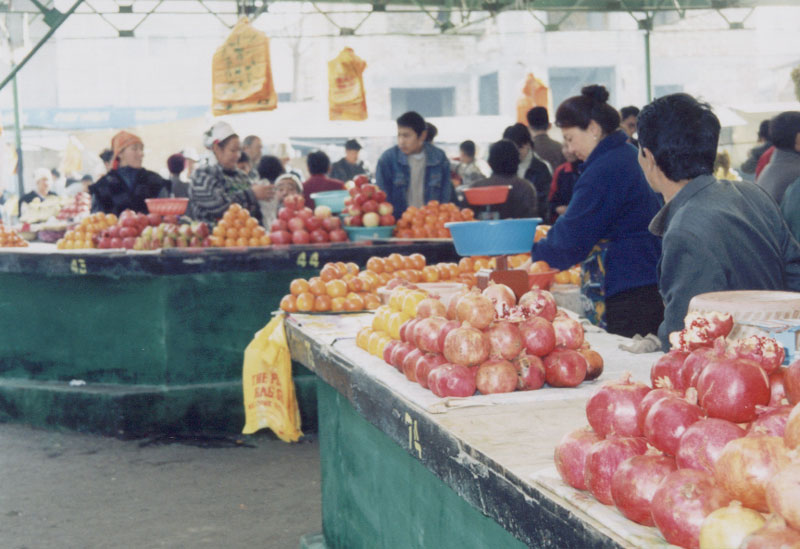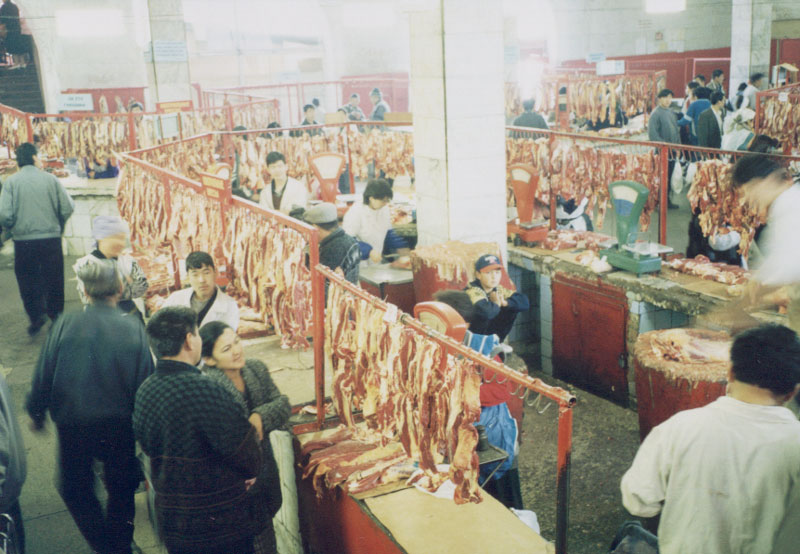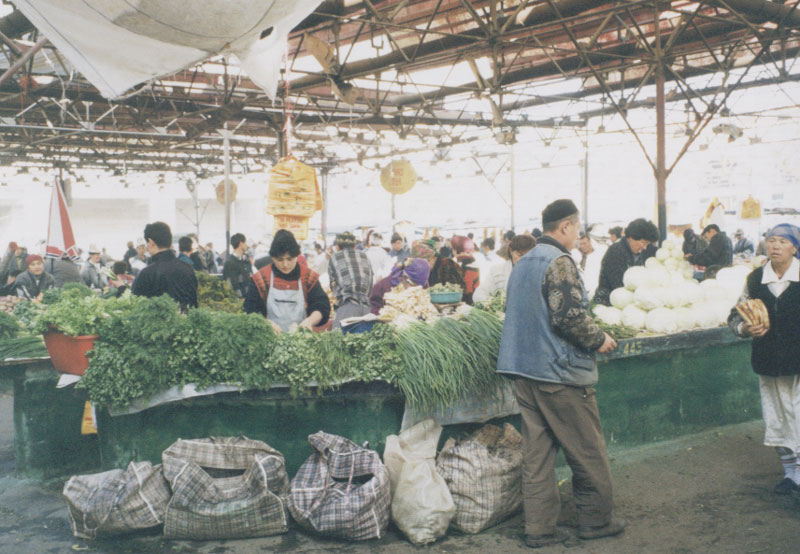 Honor Guard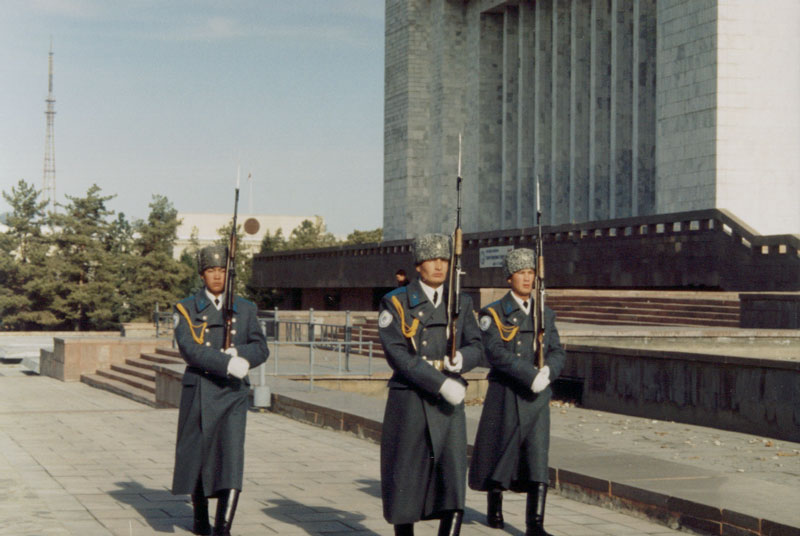 I got to see the Honor Guard at the city center. These guys were funny, they were talking until they saw me and knew I wanted to take some photographs. They did an amazing job marching in formation. These photos were used in some publications afterwards (though I did not paid for them).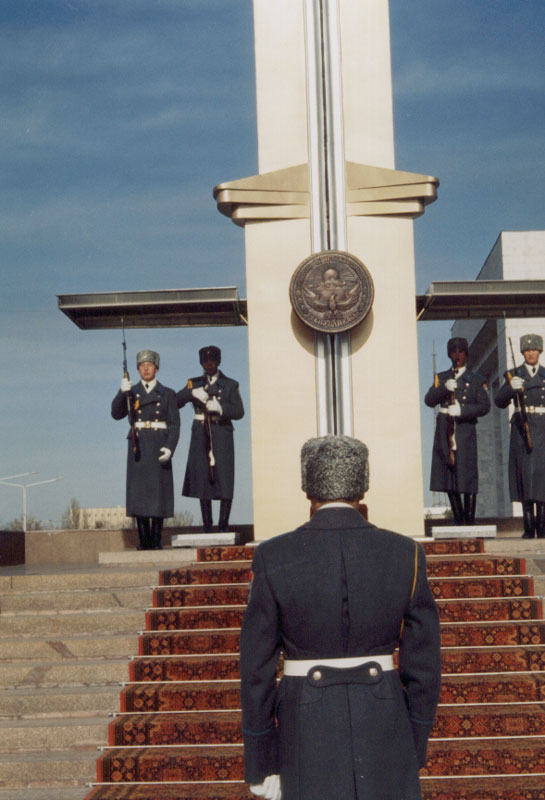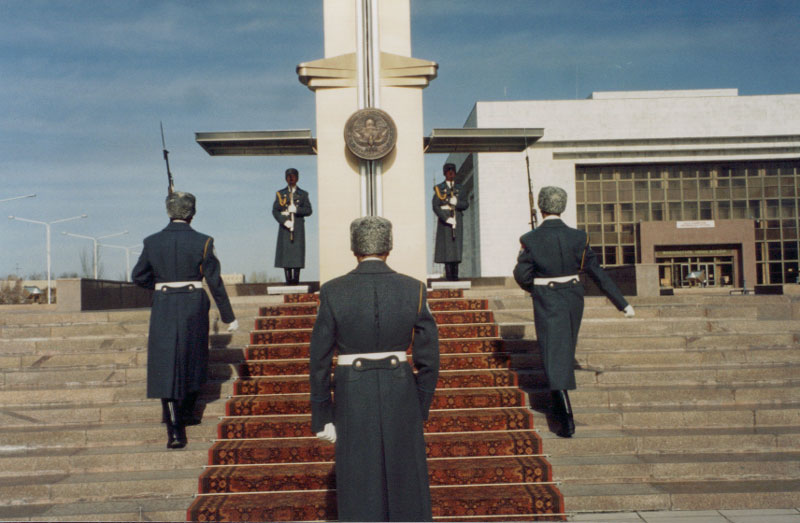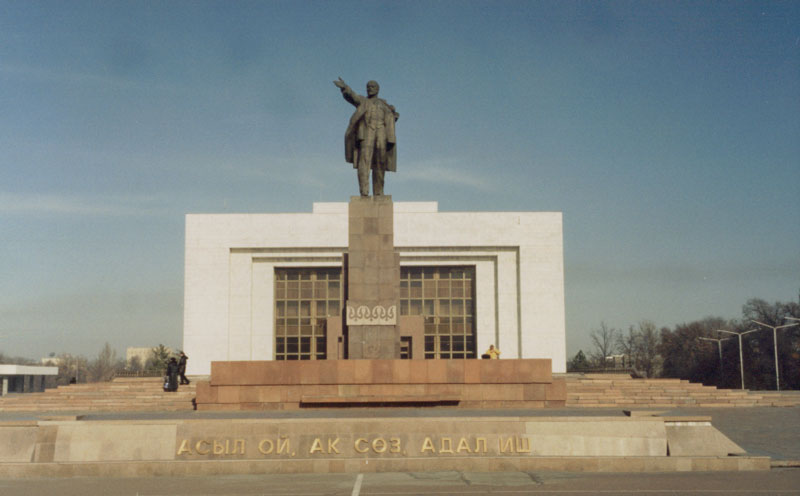 The statue of Lenin, now removed I heard, was nearby.
Winter, 1999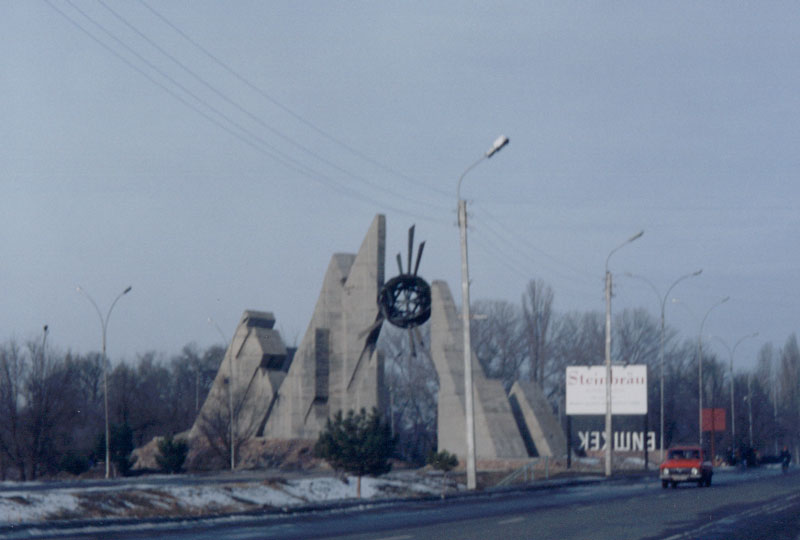 Winter finally came. In Kazakhstan I did not experience a lot of snow since I was in the south. In Bishkek, I saw a lot.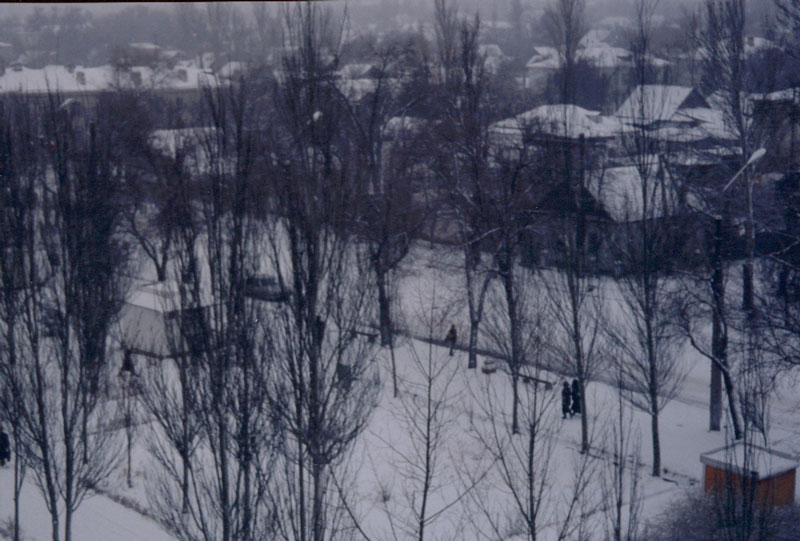 Snowing from Yug 2. Yes I was fascinated by it.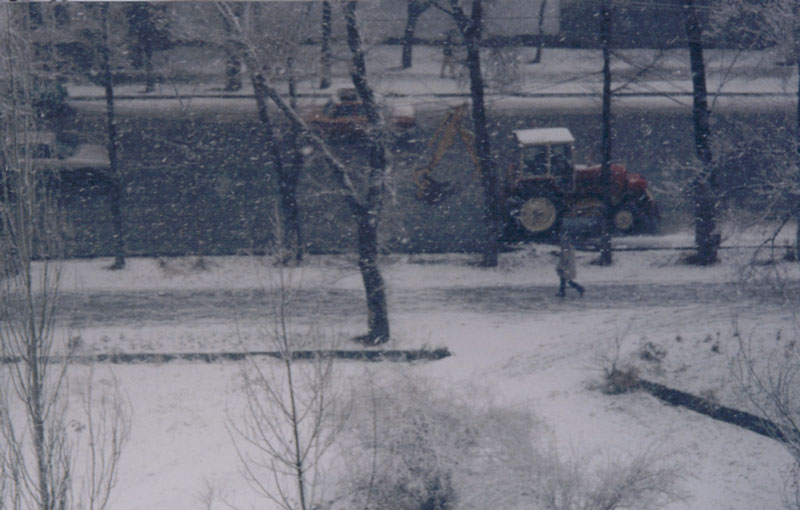 More snowfall.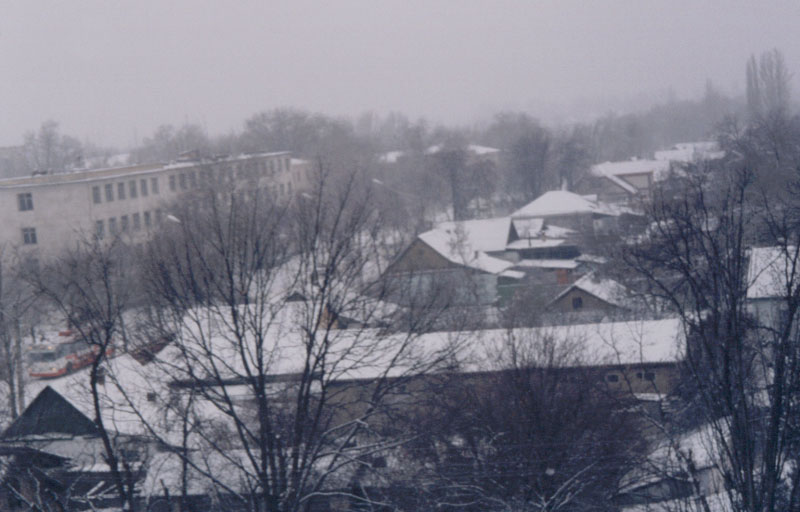 If I remember right, the US Marine Corps barracks were around here. I got to meet the US Embassy Marine Security Guards when I lived in Bishkek. It was the first time I met fellow US Marines since I left the Corps in October, 1996.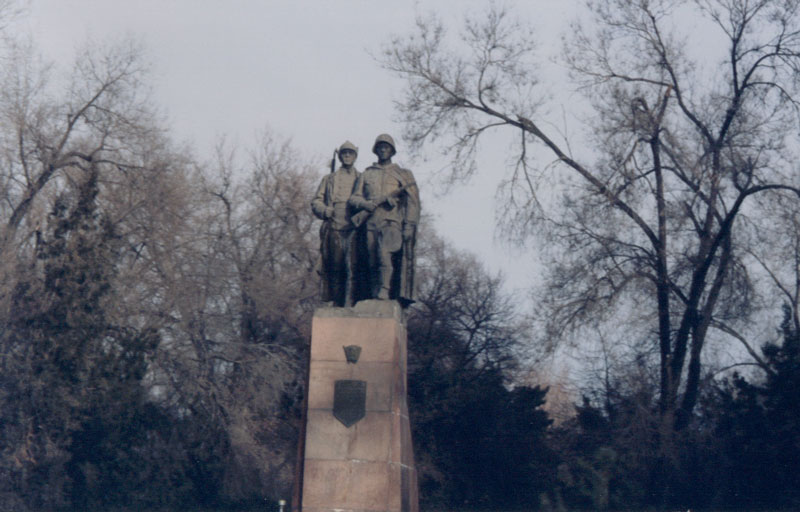 Sorry, forgot where this was located at.
Manas International Airport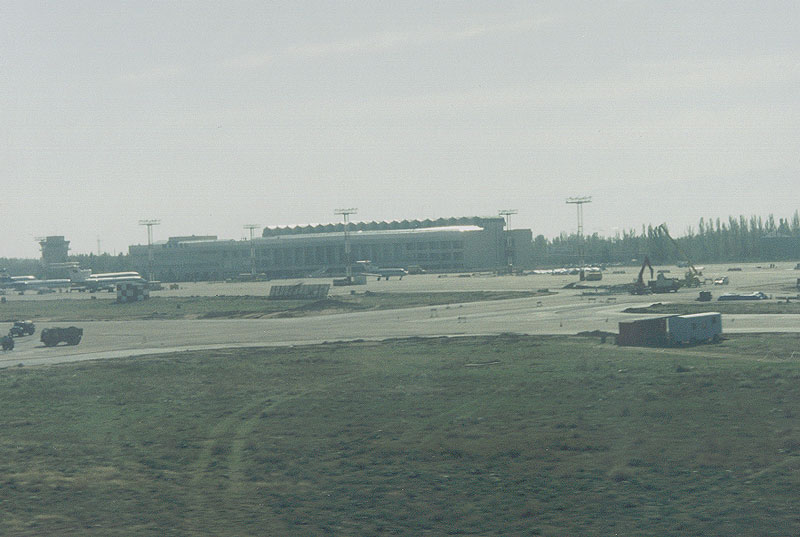 Manas International Airport some two years before the US military arrived. This was in late August, 1999, when I flew in with from Moscow, Russia, after my training.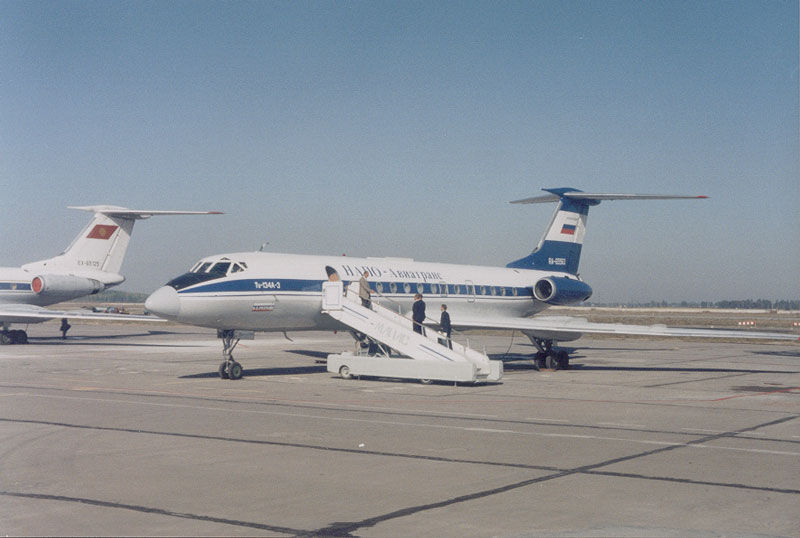 I flew in on a jet like this. I actually thought I was going to die since it was the first time I flew on a Soviet jetliner. After my four months in Krygyzstan, I would miss them.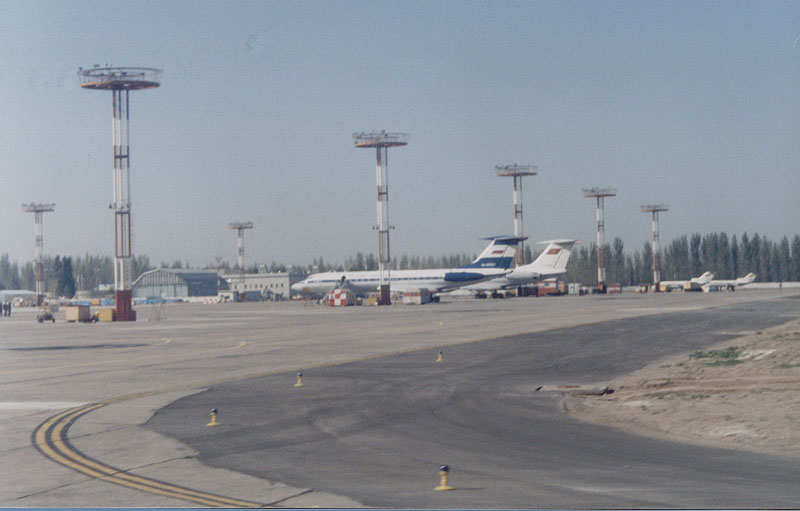 Several Soviet jetliners. Kyrgyzstan Airlines did own one Airbus but they could only fly to Turkey but not the rest of Europe.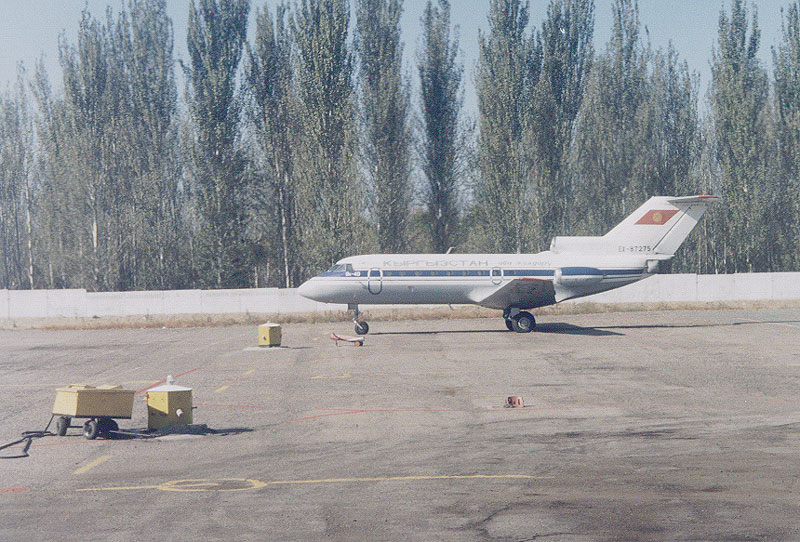 I flew on this plane 4 times between Bishkek and Osh. It is a fun ride.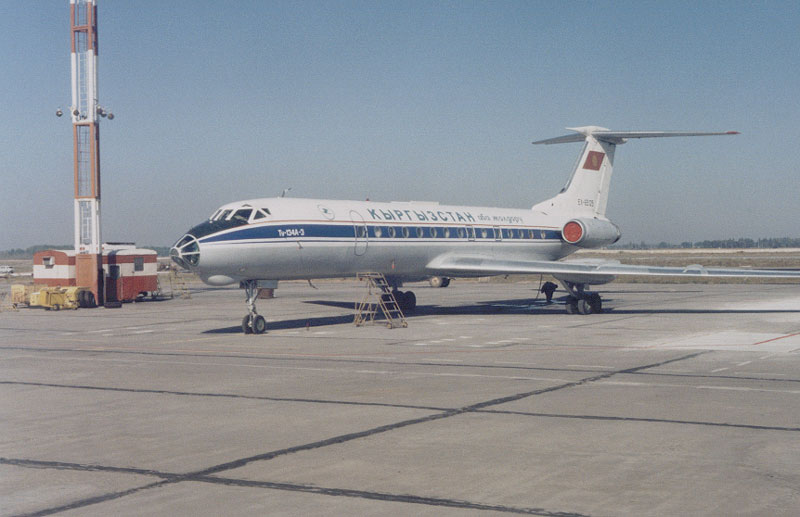 Kyrgyzstan Airlines Tupolev T-134.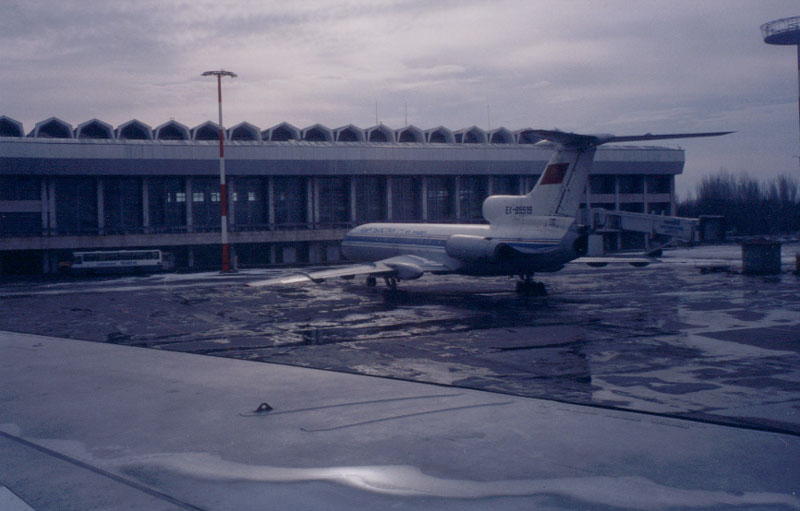 Manas did have one jetway at the time. Most of the time you either took a bus or walked to the plane. This photo was one of my last pictures of Kyrgyzstan. I flew out to Istanbul via Turkish Airlines in late 1999.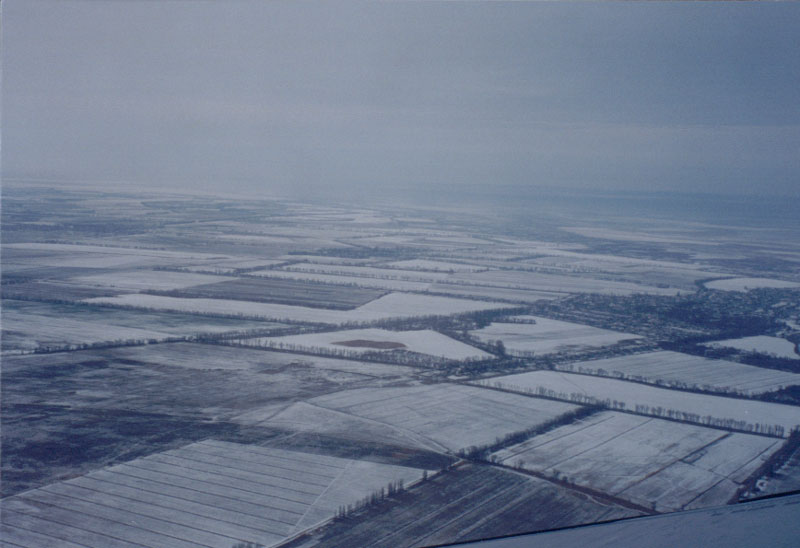 My last photo of me leaving Kyrgyzstan heading to Istanbul, Turkey.
Reflection
The four months went fast primarily because I was on the road a lot. I lost contact with the Chokubaevs so I never met them when I moved back to Almaty, Kazakhstan, in 2013. Recently, I was able to get into contact with one of my Kyrgyz host brothers. I hope to meet he and his brother in the future.